Active Archive of Large Floods, 1985-Present
Master Index of Inundation Maps

Space-based Measurement, Mapping, and Modeling of Surface Water

For Research, Humanitarian, and Water Management Applications

Flood Observatory Associate Director

Community Surface Dynamics Modeling System
University of Colorado, Campus Box 450, Boulder, CO 80309 USA

Visit the Global Flood Partnership (information about 2016 meeting)

The Global Flood Partnership is a network of organizations that are developing an operational global flood observational and risk modelling infrastructure: for better predicting, monitoring and measuring large flood events and their impacts, worldwide.

Click on Map Sheets Below for Access to Near Real Time Flood Mapping

Whole Earth image from JHT's Planetary Pixel Emporium

There are two map series accessible from the global index: "Current Flood Conditions", providing daily, satellite-based updates of surface water extent, and the "Global Atlas of Floodplains", a remote sensing record of floods, 1993 to 2015. Links to GIS data supporting the displays are also provided. This >20 year long effort has been sustained by grants and contracts from NASA, the European Commission, the World Bank, the Latin American Development Bank and others to Dartmouth College and to the University of Colorado.

River Watch 3: Experimental Satellite-based River Discharge Measurements

Daily updates at 14:30 Local Denver Time

NEW PROJECTS

Ganges/Brahmaputra Flood Awareness and Prediction System

Ganges/Brahmaputra MODIS NRT Current Flood Conditions

Myanmar MODIS NRT Current Flood Conditions

RECENT EVENTS

East Texas Flooding, May 28, 2016, from NASA/USGS Landsat 8 data.

Top: Multispectral color composite from 3 bands.Bottom: Blue is classified water. Click here to access map data.

Current Flood Conditions, northern Bangladesh

Updated Daily at 16:45 Local (Denver) Time. See Ganges/Brahmaputra Current Flood Conditions for symbology. Red (flooding) and magenta show current water.

Current Flood Conditions, Myanmar

Updated Daily at 16:45 Local (Denver) Time. See Myanmar Current Flood Conditions for symbology key. Click on dots for River Watch sites.
Current 7-day Accumulated Rainfall
from NASA Goddard Space Flight Center Satellite Precipitation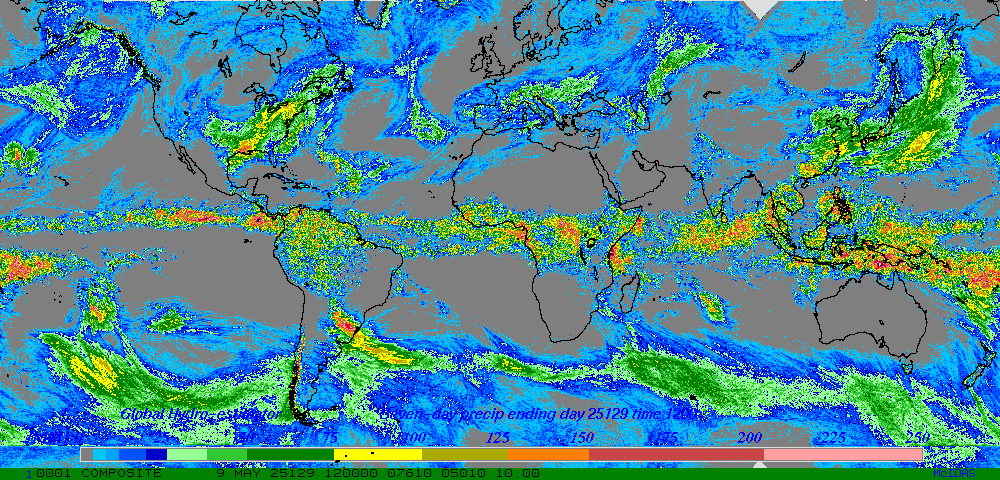 SSMI/SSMIS/AMSR2-derived Total Precipitable Water - Global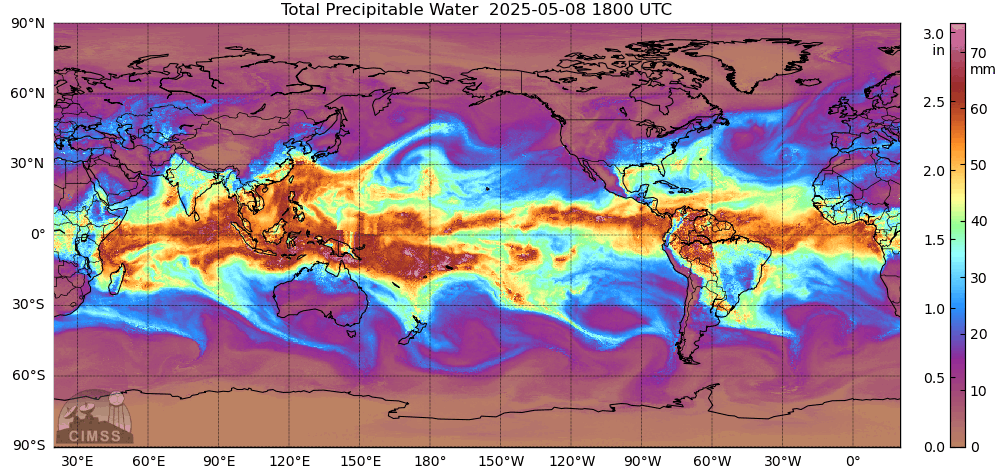 Current NASA Worldview MODIS Display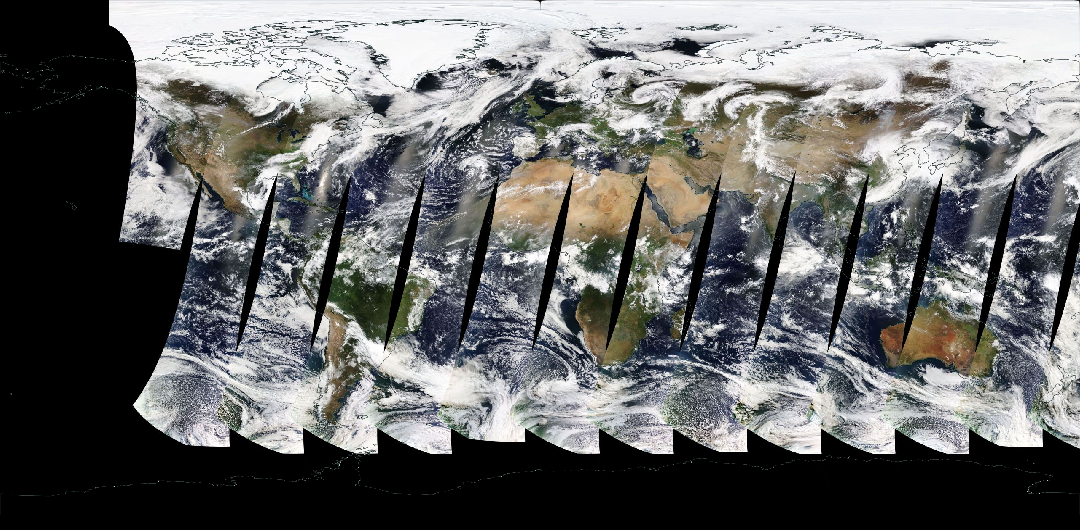 RECENT EVENTS: Flood Hydrographs from Microwave radiometry
Rivers in southern India flooded after passage of a tropical deep depression in 2015: River Watch Site 2041, below.
These Microwave River Watch sites are also tracking current drought conditions: example Site 277, below, Zambezi River, Zambia. 2016 is another drought year; 2015 annual runoff measured here was only ~25% of the average, 1998-2014.
Large floods also affect the coastal ocean. Below left: MODIS image of Angat River mouth, NW of Manilla, Sept. 23, 2015. Below right, MODIS image from Oct. 21, 2015, after passage of Typhoon Lando/Koppu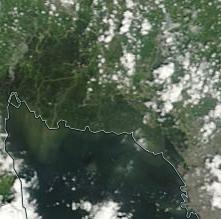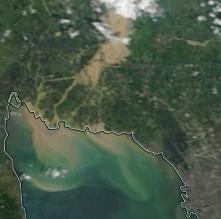 Survey of DFO Projects and Products
Plot of total number of large and extreme floods listed in the DFO Flood Archive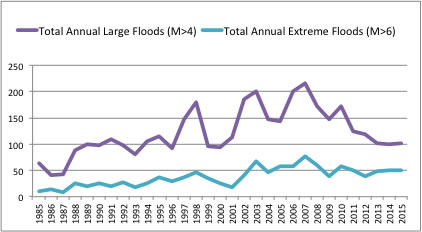 Geographic Centers of floods in the FloodArchive GIS file, 1985-2010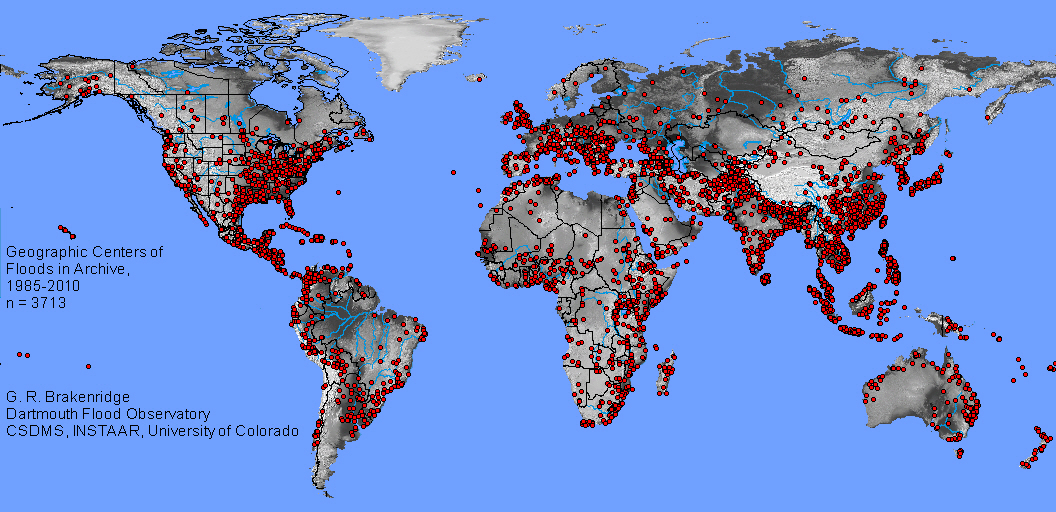 The Flood Observatory facilitates practical use of space-based information for international flood detection, flood response, future risk assessment, and hydrological research. In 2013-2017, it is leading a NASA SMD/ESD Applied Sciences Program project to improve World Food Programme use of flood mapping information. Click on video below for visualization of WFP logistics. Also see this video for information about the role of the International Charter for Space and Major Disasters in making satellite data available for disaster response.
(counting since February 7, 2012)

This web site and associated data by G.

Robert Brakenridge and Albert J. Kettner

are licensed under a Creative Commons Attribution 3.0 Unported License.
---
---
This work is made possible by data acquired by NASA, the Japanese Space Agency, and the European Space Agency, and funding support from NASA and the European Commission, through the Global Disaster Alert and Coordination System (GDACS) project, Joint Research Centre, Ispra, Italy. The Observatory was founded in 1993 at Dartmouth College, Hanover, NH USA and moved to the University of Colorado, INSTAAR, CSDMS in 2010. The institutional support of both universities is gratefully acknowledged.