Space-based Measurement and Modeling of Surface Water

For Research, Humanitarian, and Water Management Applications

Flood Observatory Director: Prof. G. Robert Brakenridge

Community Surface Dynamics Modeling System
University of Colorado, Campus Box 450, Boulder, CO 80309 USA

Visit Latin American Current Surface Water at GeoSUR

Experimental Displays (updated daily)

SE Ukraine Current Surface Water
Flood Detection Displays (updated daily)
Southern Europe and Northern Africa
Sample of National Current Conditions and Maximum Flood Extent Series (numbered dots are clickable): Ethiopia
Red: Flooding within past 14 days. Light Red: Flooded during this year. Very light blue: all flooding mapped by DFO since early yr 2000.
Dark blue: Permanent reference water
(Special Note: Fresh volcanic rocks in upper part of scene are misclassified as flood water by this automated processor)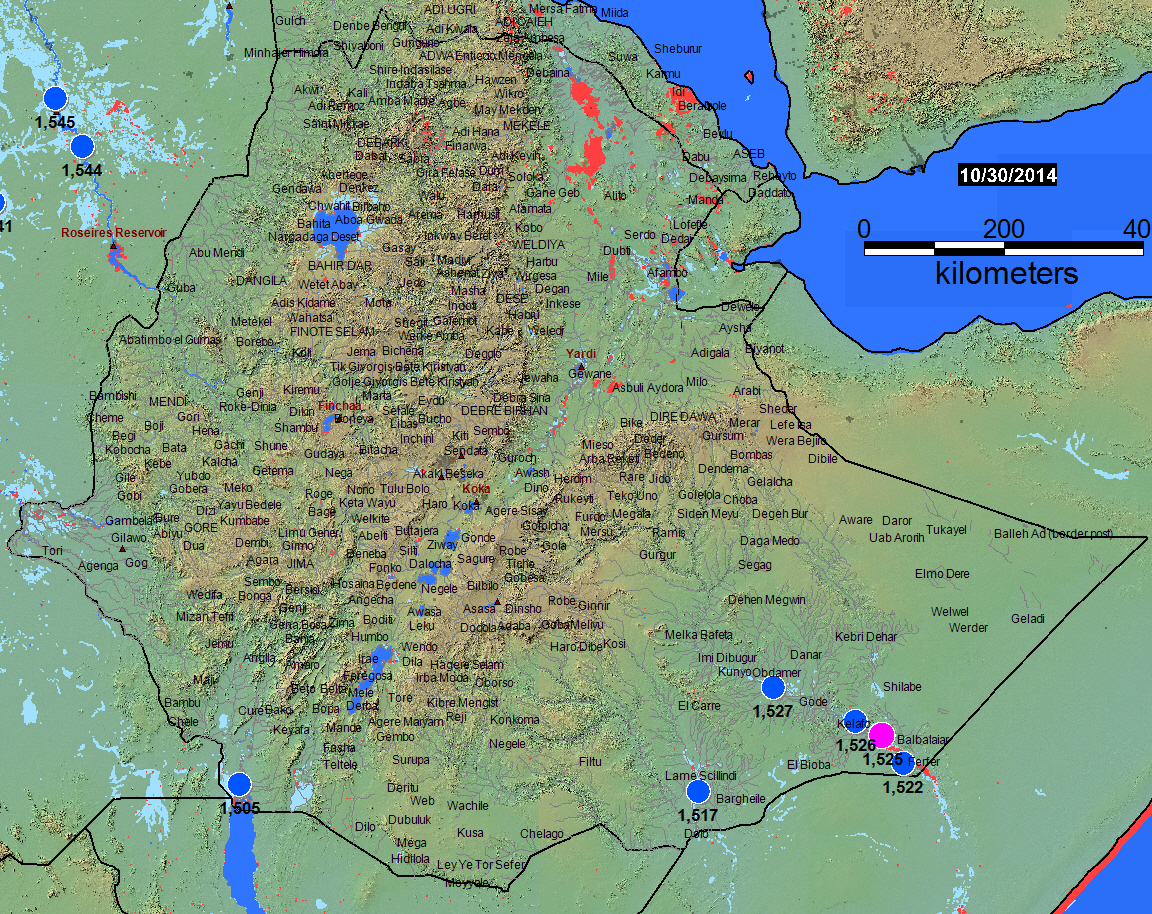 Recent Flood Mapping (current events)
2014 Paraguay and Brazil, Event #4150 (North)
2014 Paraguay and Brazil, Event #4150 (South)
2014 Amazonas, Brazil, Event #4159
2014 Bihar, India, Event #4174

Whole Earth image from JHT's Planetary Pixel Emporium
(click on map above for individual Surface Water Record map displays)
The Surface Water Record is a comprehensive map record of the Earth's changing surface water (including current flooding or drought). It is accessed by clicking on one of the grid squares illustrated above. Links to GIS data supporting the displays are also provided. This 20 year long effort has been sustained by grants and contracts from NASA, the European Commission, the World Bank, the Latin American Development Bank, and by Dartmouth College and the University of Colorado. Version 3 is fully automated with daily updates.
Guide to the Surface Water Record
(counting since February 7, 2012)
River Watch 2: Experimental Satellite-based River Discharge Measurements
Daily updates complete at 13:40 MST/20:40 UTC
River Watch 2 is an experimental river discharge and watershed runoff measurement system. One capability is to detect and measure floods. Satellite microwave sensors provide global coverage of the Earth's land surface on a near-daily basis and, at certain wavelengths, without major interference from cloud cover. Using a processing strategy first developed for wide-area optical sensors (1), these sensors (e.g. AMSR-E, AMSR-2, TRMM, and GPM) can measure river discharge changes. As rivers rise and discharge increases, river measurement sites can very sensitively monitor these changes (2, 3). Transformation of the remote sensing signal to discharge values is accomplished via a rating equation (as is the case for stage-based discharge measurements on the ground). For River Watch 2, the calibrating discharge values are obtained by runs of a global runoff model (4).
Seven-day watershed Runoff Measurements from the River Watch Processor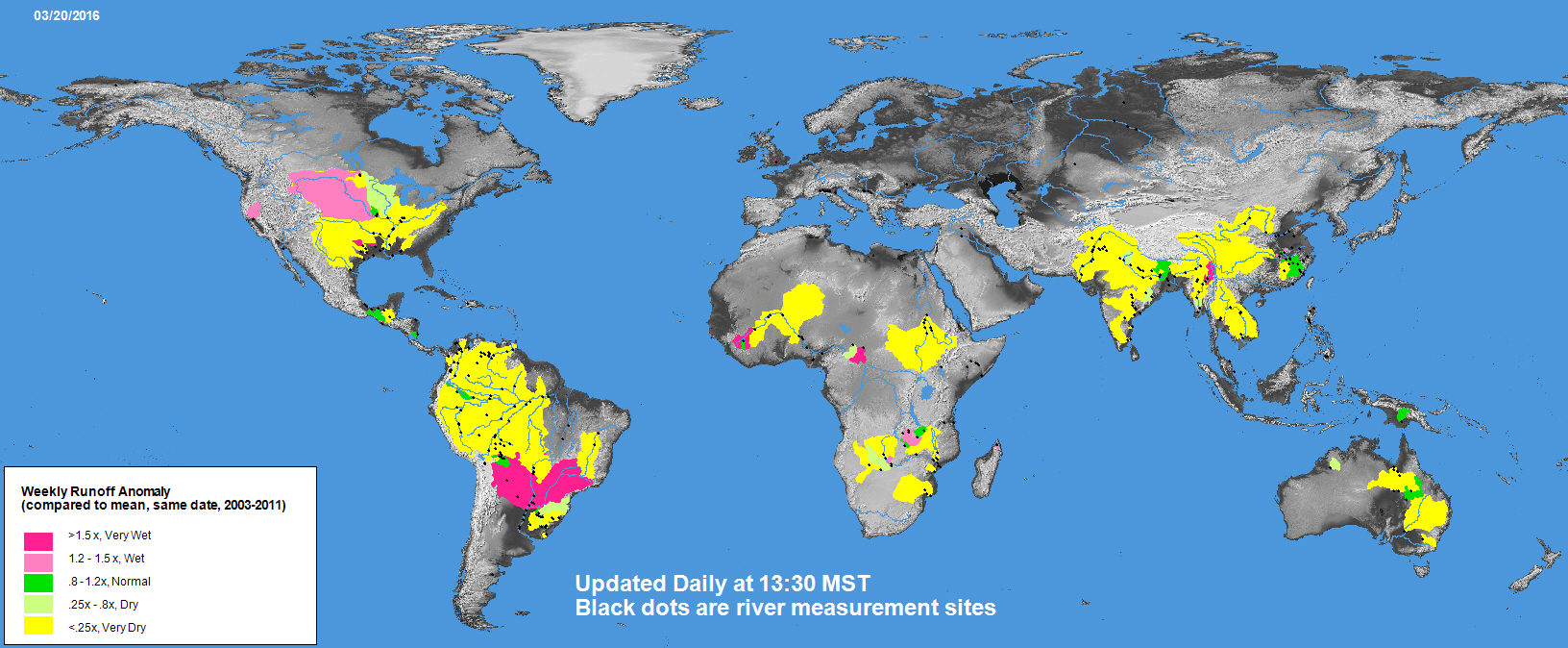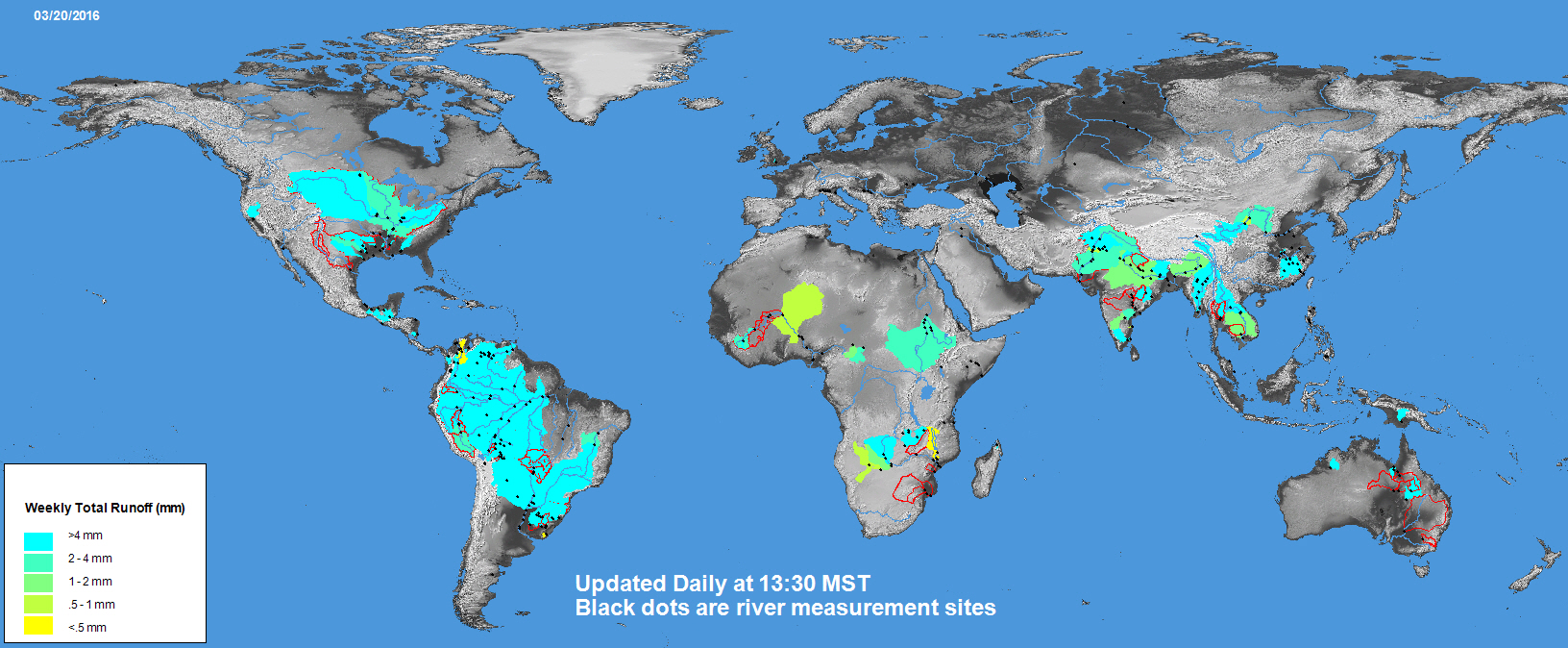 Some Sample Results and Services
MODIS NRT coverage of the Colorado River Delta, during recent augmentation of flow from the U.S. See also article and ppt time series. Purple: water imaged in Februay, 2000 by the SRTM mission but not mapped by current MODIS data (only extending 10 km seaward from the coast). Dark blue: water was present in 2000, and is also currently mapped by MODIS. Light blue: water is being observed by MODIS, but was not present in February, 2000. Very light gray: maximum extent of water mapped by MODIS, yr 2000-present. Obtain Geotiff version.
Also see: Surface Water changes after the Mexicali Earthquake, April 4, 2010.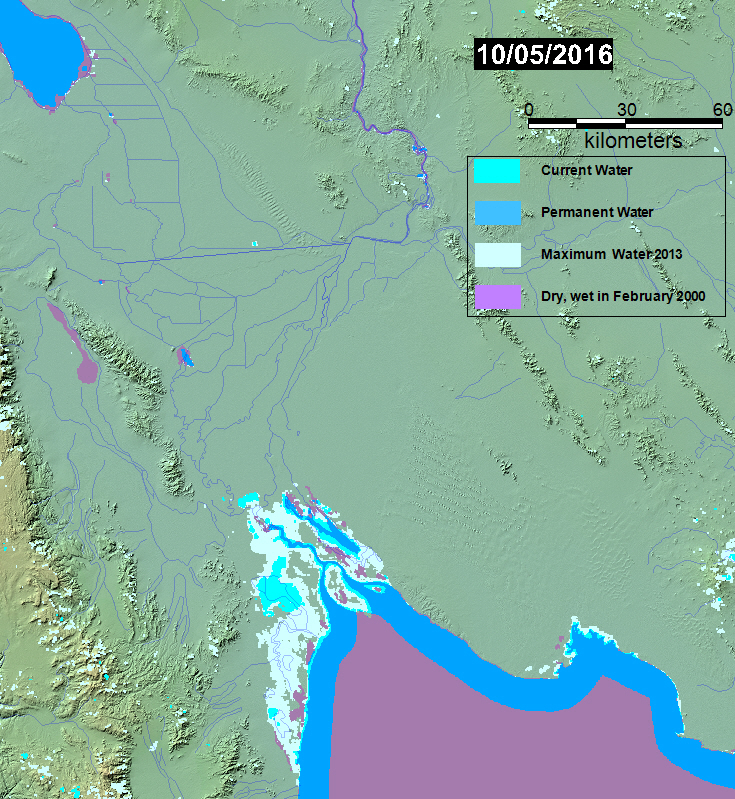 Samples of MODIS NRT Coverage of detected surface water in NE Pakistan and NW India, September 8, 2014. See also Flood Event display.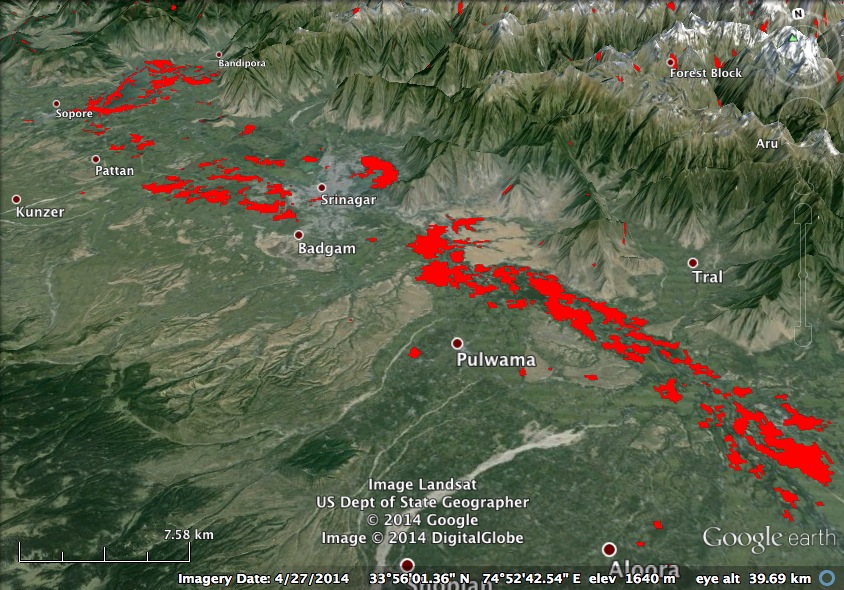 Damaging flooding in the Pakistani Punjab, sample view, September 8, 2014. See also Flood Event display.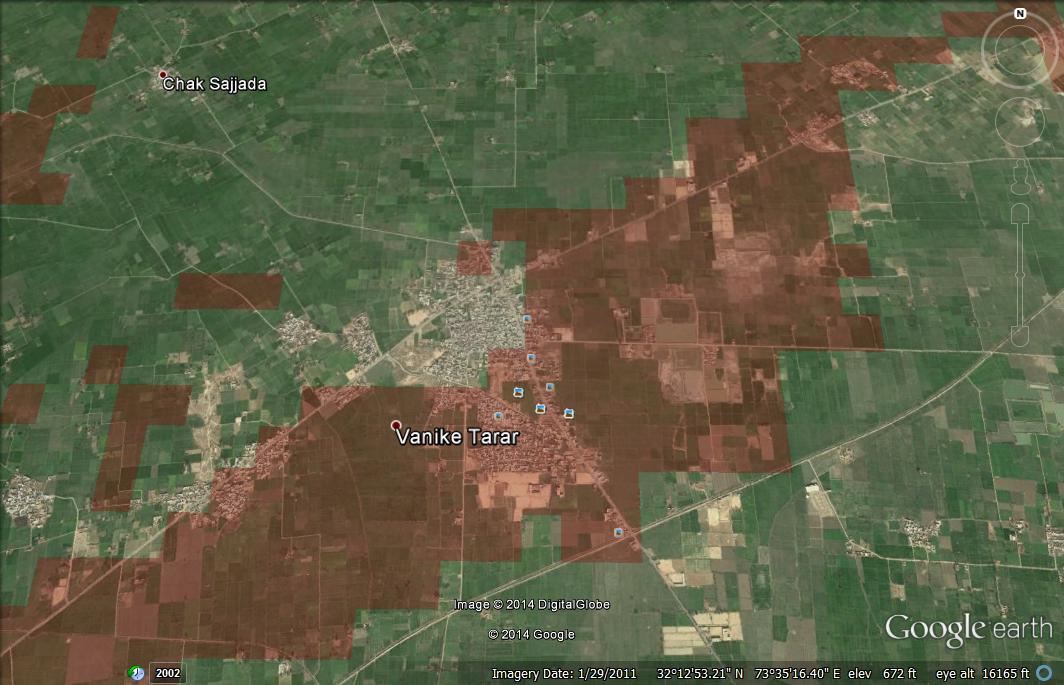 Damaging flooding in the Sindh, Pakistan, sample view, September 21, 2014. See also Flood Event display.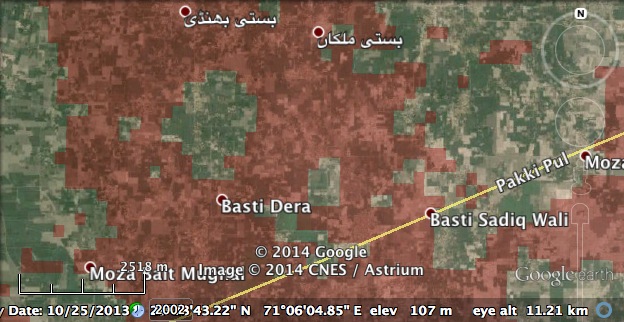 Detail shows villages under water, September 21, 2014. See also Flood Event display.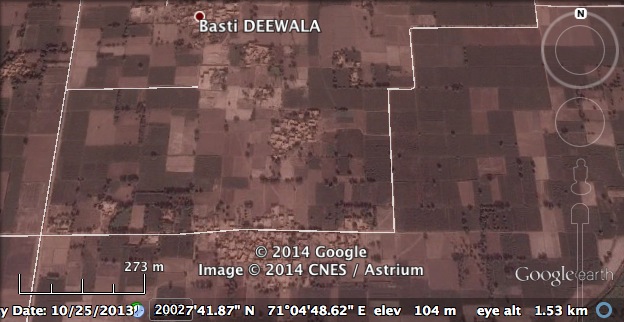 Sample of drought (reduced surface water) mapping in the Central USA, Summer, 2012 using NASA MODIS data.. Yellow shows new dry land. See appropriate sheets of the Surface Water Record when droughts are underway. As well, the runoff displays above may be used to look for areas of surface water anomalies. In 2014, we will be moving increasingly to Google Earth and Google Maps platforms.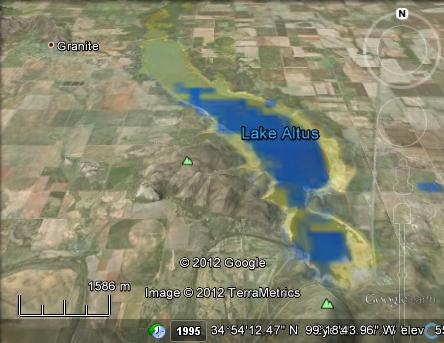 Plot of total number of large and extreme floods listed in the DFO Flood Archive.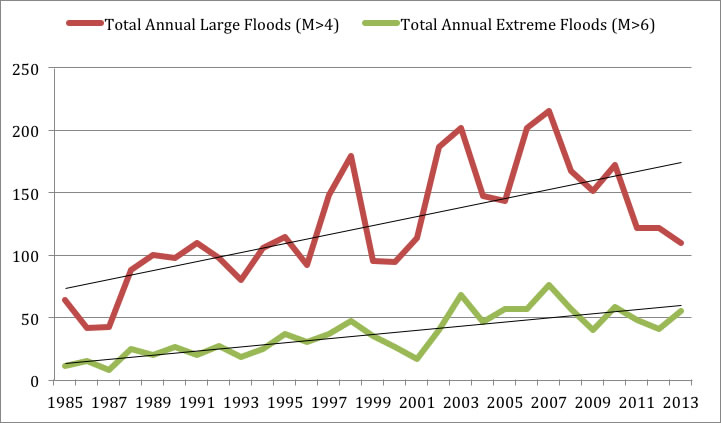 DFO began its work in 1993 using ESA ERS-1 SAT data to map the Great Flood of the Upper Mississippi Valley, USA. We have employed a variety of sensors since then to map floods. See Rapid Response Inundation Maps for many of the results.
Example: late 2011 Thailand flooding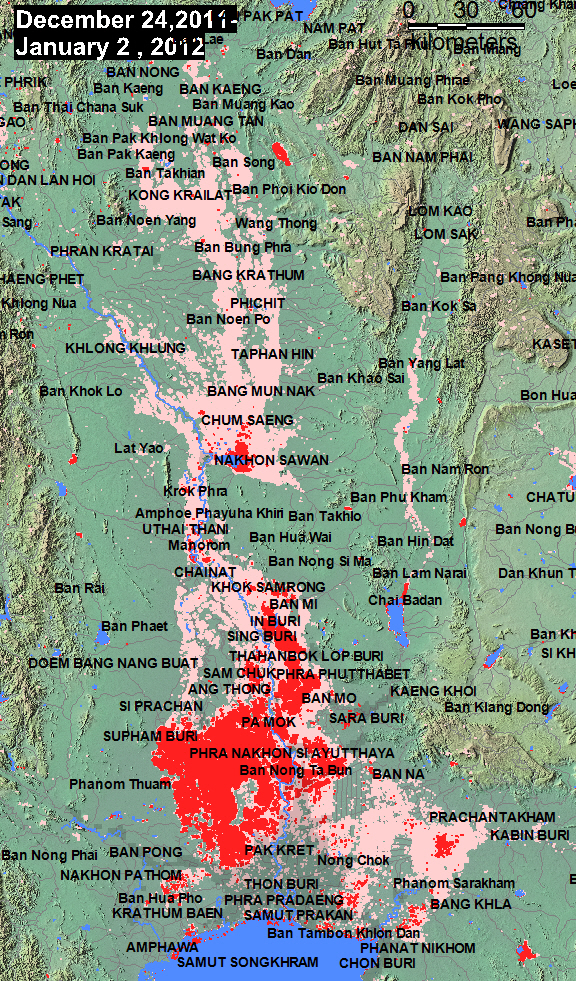 Red: Flooding on dates shown. Light Red: Previously flooded this event; now dry. Blue: Reference Water (permanent water bodies).
Special Displays
Draft Ganges-Brahmaputra Regional Display
Draft Indus Basin Regional Display
Dynamic Surface Water Maps (floods, droughts, lakes and reservoirs, and the coastal zone)
See also other projects and data products
The Flood Observatory facilitates practical use of space-based information for international flood detection, flood response, future risk assessment, and hydrological research. In 2013-2017, it is leading a NASA SMD/ESD Applied Sciences Program project to improve World Food Programme use of flood mapping information. Click on video below for visualization of WFP logistics.

This web site and associated data by G.

Robert Brakenridge and Albert J. Kettner

are licensed under a Creative Commons Attribution 3.0 Unported License.