Active Archive of Large Floods, 1985-Present
Master Index of Inundation Maps

Space-based Measurement, Mapping, and Modeling of Surface Water

For Research, Humanitarian, and Water Management Applications

Community Surface Dynamics Modeling System
University of Colorado, Campus Box 450, Boulder, CO 80309 USA

For latest data, flooding in northern Pakistan, DFO #4272, July-August, 2015

Whole Earth image from JHT's Planetary Pixel Emporium
Click on areas above for access to map information
There are two map series accessible from the above global index: "Current Flood Conditions", providing daily, satellite-based updates of surface water extent, and the "Global Atlas of Floodplains", a remote sensing record of floods, 1993 to 2015. Links to GIS data supporting the displays are also provided. This >20 year long effort has been sustained by grants and contracts from NASA, the European Commission, the World Bank, the Latin American Development Bank and others to Dartmouth College and to the University of Colorado.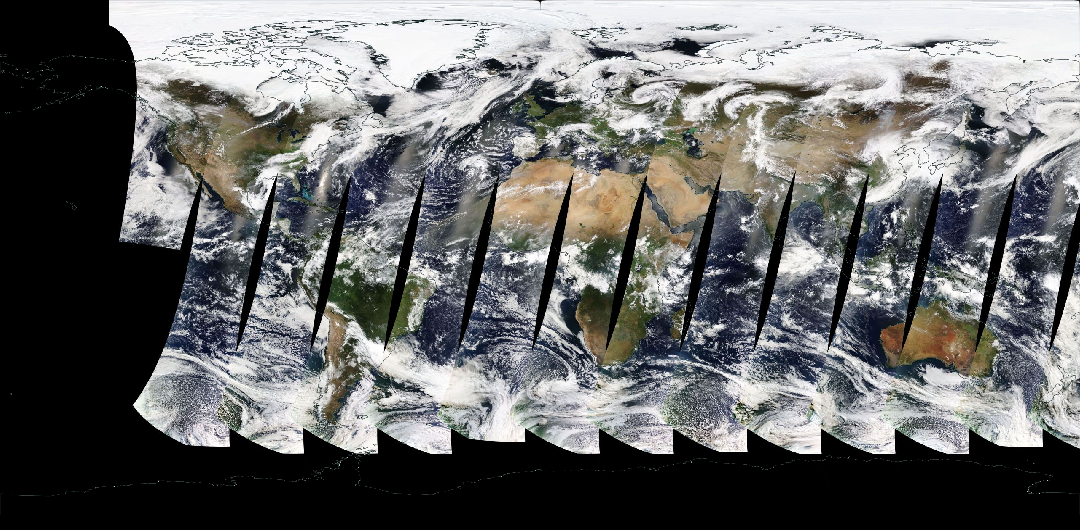 Four times/daily updates complete at 6:00, 12:00, 18:00, and 24:00 MDT

River Watch 2: Experimental Satellite-based River Discharge Measurements
Daily updates complete at 14:30 MDT
NASA MODIS Sees Flash Flooding in Southern California/Southwestern Arizona (DFO event #4279, examples below)
Left: before image, July 16. Interstate Highway I-10 is visible as thin east-west gray line crossing center.
Right: blue shows flood water in July 20 (bands 7,2,1) TERRA-MODIS display from Worldview. Bridge was destroyed and California-Arizona traffic halted.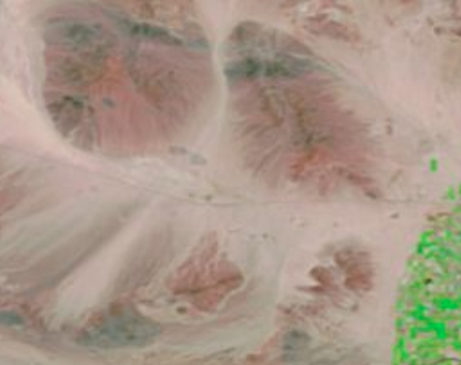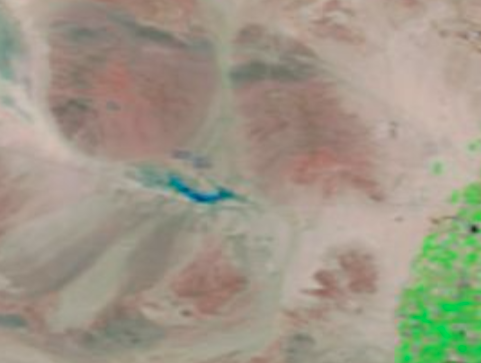 Survey of DFO Projects and Products
Below: Draft Current Conditions and Flood Hazard Map, Guapore River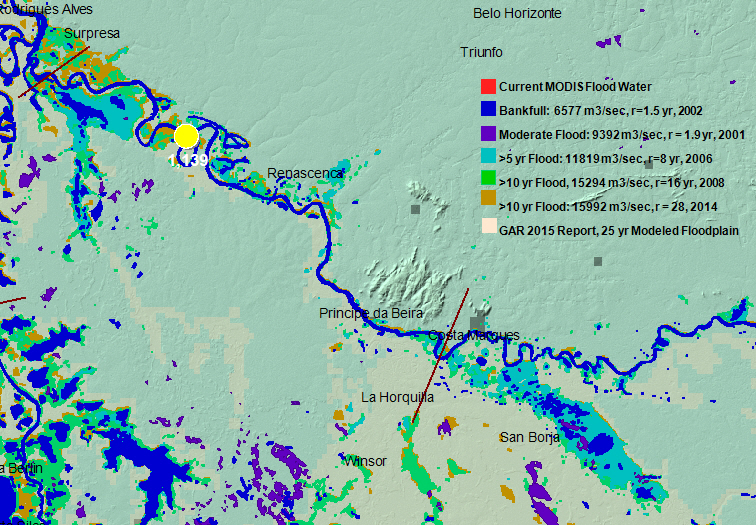 Plot of total number of large and extreme floods listed in the DFO Flood Archive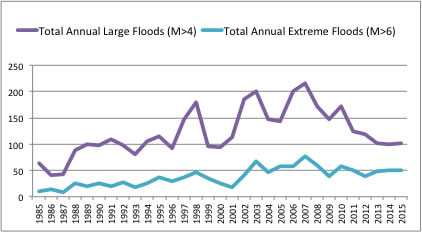 The Flood Observatory facilitates practical use of space-based information for international flood detection, flood response, future risk assessment, and hydrological research. In 2013-2017, it is leading a NASA SMD/ESD Applied Sciences Program project to improve World Food Programme use of flood mapping information. Click on video below for visualization of WFP logistics. Also see this video for information about the role of the International Charter for Space and Major Disasters in making satellite data available for disaster response.
(counting since February 7, 2012)

This web site and associated data by G.

Robert Brakenridge and Albert J. Kettner

are licensed under a Creative Commons Attribution 3.0 Unported License.
---
---
This work is made possible by data acquired by NASA, the Japanese Space Agency, and the European Space Agency, and funding support from NASA and the European Commission, through the Global Disaster Alert and Coordination System (GDACS) project, Joint Research Centre, Ispra, Italy. The Observatory was founded in 1993 at Dartmouth College, Hanover, NH USA and moved to the University of Colorado, INSTAAR, CSDMS in 2010. The institutional support of both universities is gratefully acknowledged.