Active Archive of Large Floods, 1985-Present
Master Index of Inundation Maps

Space-based Measurement, Mapping, and Modeling of Surface Water

For Research, Humanitarian, and Water Management Applications

Community Surface Dynamics Modeling System
INSTAAR, University of Colorado, Campus Box 450, Boulder, CO 80309 USA

Flood Observatory Mission Statement

The Dartmouth Flood Observatory was founded in 1993 at Dartmouth College, Hanover, NH USA and moved to the University of Colorado, INSTAAR in 2010. Its sustained, not-for-profit operation depends on grant and project support. Financial contributions

may be tax-deductible.

Vitae: Flood Observatory Director Albert Kettner and Founder and Associate Director Robert Brakenridge

Movie of Flood Locations, 1985-2016

Flood Observatory Web Map Server

GeoSUR Web Map Server (turn on "LAC Floods" and "River Flow" layers)

Science Article about DFO by Jason Plautz

Current Conditions

(

Red

: Reported major floods during past 20 days. White squares: Current Conditions displays)

Whole Earth image from JHT's Planetary Pixel Emporium

Since late 1999, satellite data have been obtained by the Flood Observatory, processed to detect water/land boundaries, and analyzed to produce flood inundation limits in vector GIS format. DFO's Current Conditions updates this information each day into displays showing current surface water compared to the record of flooding. In 2017, we are revising the displays for global coverage. New format sample: 090E030N.

DFO's River and Reservoir Watch provides experimental, fully automated satellite-based river discharge and reservoir area measurements. They are updated daily. Ground-based gauging stations can accurately observe flow changes along rivers and streams (blue line in example below, Site #91, Wabash River, central USA). Using specially processed microwave information (in black), satellite data can provide similar data at very much lower cost and across international boundaries. DFO is developing an array of validated measurement sites for the Earth (click on link above or map below).

Twice-daily updates at 2:30 and 14:30 Local Denver Time

Flood-generating (red) and Drought-affected (yellow) Watersheds

Daily updates at 14:30 Local Denver Time. Data are from River Watch.

Vegetation Index-Indicated Drought

Daily updates at DFO at 6:00 local Denver time; source image is updated weekly
SSMI/SSMIS/AMSR2 Total Precipitable Water
Current NASA Worldview MODIS Display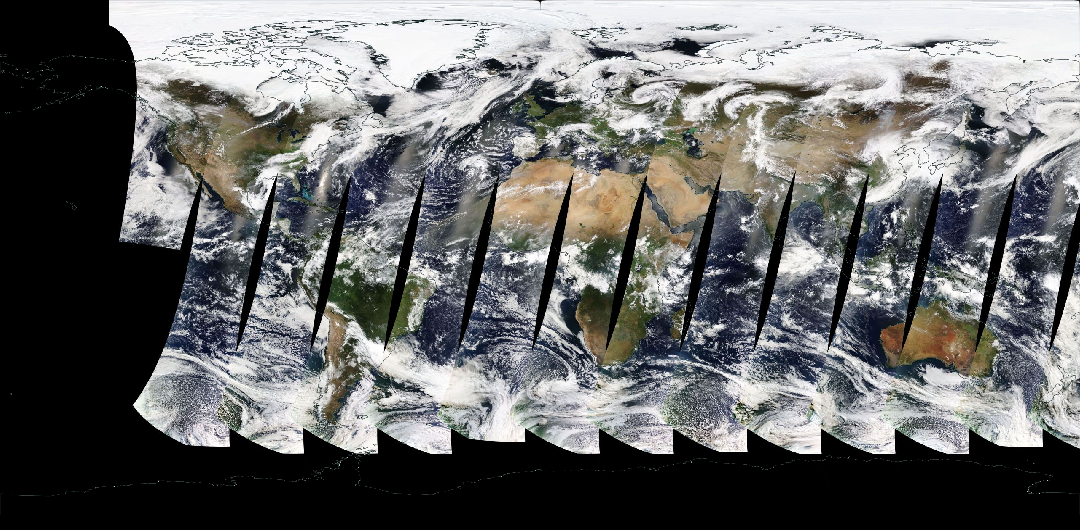 7-day Accumulated Rainfall
from NASA Goddard Space Flight Center Satellite Precipitation
SAMPLE RIVER WATCH RESULTS
Rivers in southern India flooded after passage of a tropical depression in 2015: River Watch Site 2041
River Watch sites also track droughts: River Watch Site 277, Zambezi River, Zambia.
West Virginia and Virginia, USA, June 3, 2018. Red is flooding imaged by Copernicus Sentinel 1 SAR data provided by the European Space Agency; June 3 image is compared to a matching May 10, 2018 image. This is a portion of the Shenandoah River southwest of Front Royal, Virginia; flooding is predicted to increase during next several days.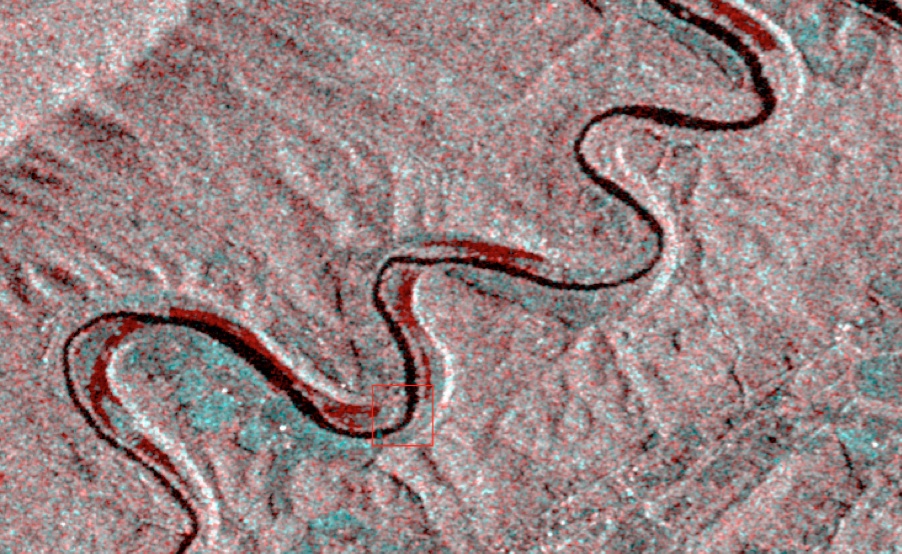 Mapping in Progress: May 19, 2018, #4619: Sri Lanka
Mapping in Progress: May 11, 2018, #4610: Record flooding, Missoula, Montana, USA
Mapping in Progress: May 3, 2018: Flooding in Somalia has displaced 175,000 people.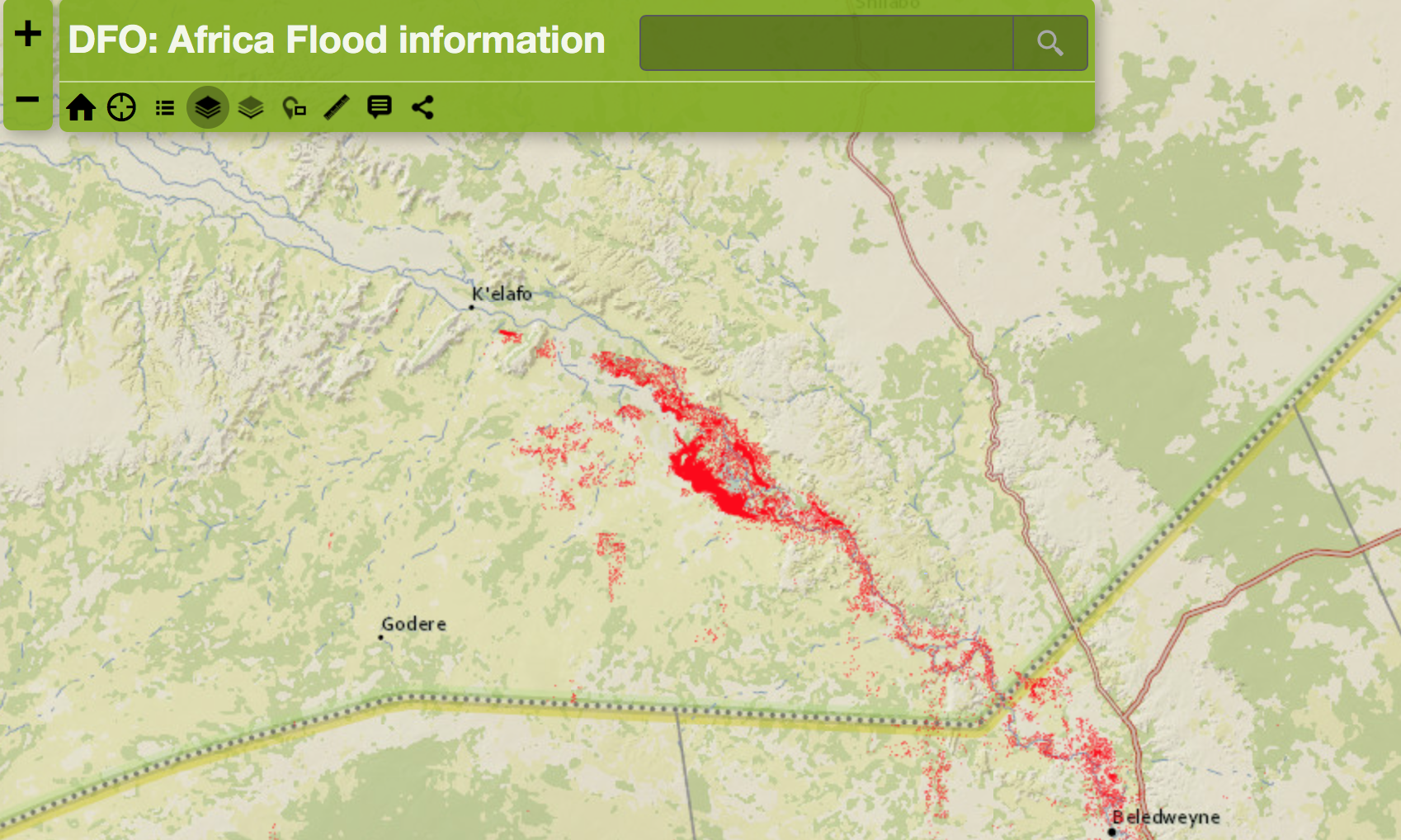 Large and Extreme floods listed in the DFO Flood Archive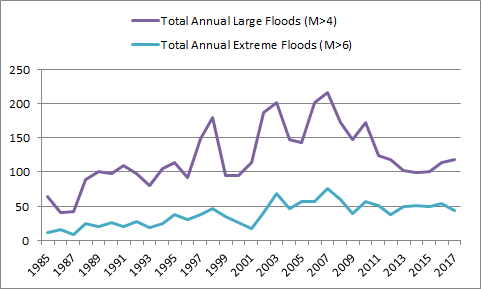 Geographic Centers of floods in the FloodArchive, 1985-2010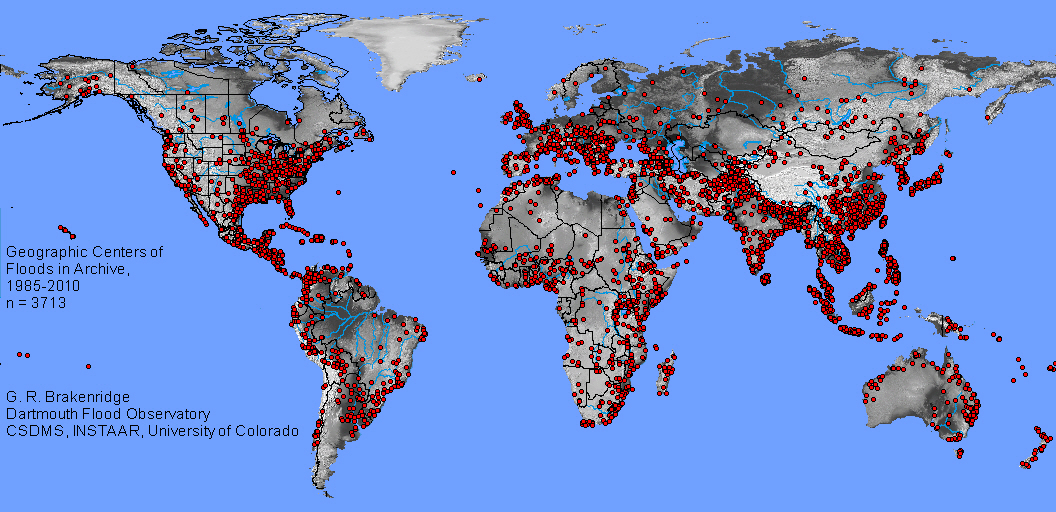 The Flood Observatory facilitates use of space-based information for international flood detection, flood response, future risk assessment, and hydrological research. In 2013-2017, it led a NASA Applied Sciences project to assist World Food Program use of flood mapping information. Click on video below for visualization of WFP logistics.
(counting since February 7, 2012)

This work, web site, and associated data are by G. R. Brakenridge and A. J. Kettner and are provided here under the terms of a Creative Commons Attribution-NonCommercial-ShareAlike 4.0 International License. With attribution, they can be used and shared freely for non-commercial purposes. Commercial use is available by permission.
---
---
This work is made possible by data acquired by NASA, the Japanese Space Agency, and the European Space Agency, and funding support from NASA and the European Commission, through the Global Disaster Alert and Coordination System (GDACS) project, Joint Research Centre, Ispra, Italy. The Observatory was founded in 1993 at Dartmouth College, Hanover, NH USA and moved to the University of Colorado, INSTAAR, CSDMS in 2010. The institutional support of both universities is gratefully acknowledged.