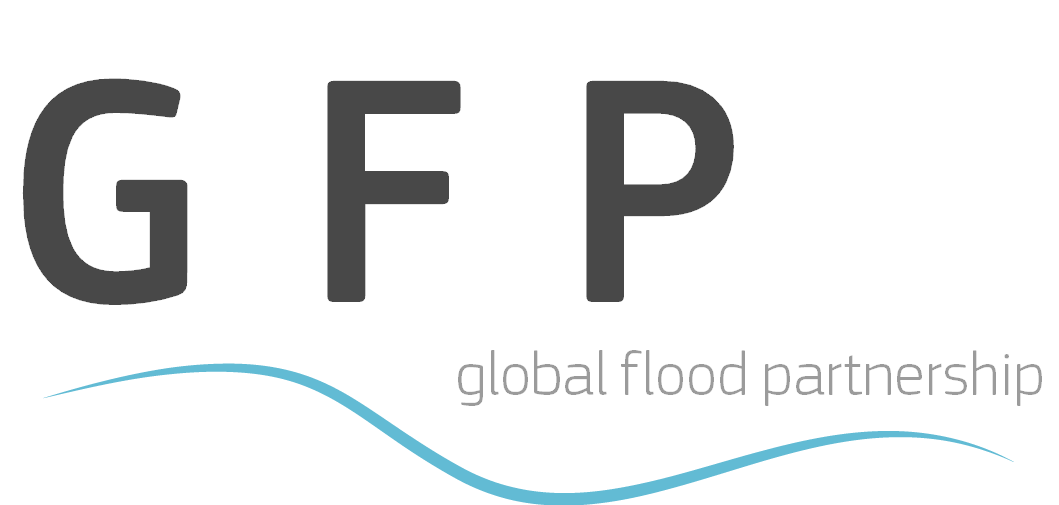 DFO Flood Event: 2020-Pakistan-4966
Description
"Pakistan – 300,000 in Need of Food Assistance After Floods in Sindh, Says WFP 28 September, 2020 by FloodList News in Asia, News The UN's World Food Programme (WFP) says that ongoing monsoon flooding in Sindh Province in Pakistan has left 300,000 people in need of food assistance. As many as 136 people have died in rain- and flood-related incidents in the province so far this monsoon. A total of 77,343 houses have been destroyed and 137,178 homes damaged. Severe flooding began in some areas in early August. As of 22 September, WFP said that thousands of families displaced by the floods are still living by the side of the road, with little chance of returning home for at least another month. While rains have stopped, many areas remain flooded and stagnant water is posing major health, nutrition and shelter issues, WFP added. Some flood-victims have found temporary accommodation in relief camps. As of 26 September Pakistan's National Disaster Management Authority (NDMA) reported there were 196 relief camps in operation in Sindh, housing 23,629 people. Sindh's Provincial Disaster Management Authority (PDMA) has distributed relief items in affected districts, including almost 85,000 tents, mostly in the districts of Dadu (7,238 tents), Badin (12,790), Sujawal (8,410), Tando Muhammad Khan (5,800), Sanghar (12,531), Mirpurkhas (14,637) and Umerkot (14,699). Flooding in Sindh Since mid August 2020 Severe flooding in the province began in early August when around 50 villages in Dadu district were inundated in early after heavy rain caused damage to the Nai Gaj Dam. The worst of the flooding came after torrential rainfall during a period 22 to 29 August, including record rainfall in parts of the provincial capital Karachi. The heavy rain caused several rivers including the Indus to overflow. By early September flooding had affected nearly 2.5 million across 15,000 villages in the province, in particular in Mirpurkhas and Umerkot districts. Furthermore over 400,000 hectares of crops have been damaged. On 28 August, the NDMA asked WFP to provide food assistance to flood-affected people in Sindh. After initial assessments in 9 districts, WFP reported around 300,000 people were in need of food assistance. "The situation in rural areas is extremely worrying, both in terms of immediate humanitarian needs and longer-term impacts on livelihoods, food security and nutrition. While rains have stopped, many areas remain flooded and stagnant water is posing major health, nutrition and shelter issues. "Thousands of families displaced by the floods are still living by the side of the road, with little chance of returning home for at least another month and no employment opportunities in view given large-scale crop and livestock losses," WFP said ." Quoted from Flood List
Modeling
The results below are from the NASA-supported Global Flood Monitoring System (GFMS) at ESSIC, University of Maryland, courtesy of Dr. Robert Adler. Date and UTC time is shown. This is flooding as modeled from input precipitation data, topography, and flow routing computations.

Maximum Observed Flooding
Red
is all mapped flooding from this event (commonly includes both MODIS data at 250 m spatial resoluton and Sentinel SAR at 10 m)
.
Blue
is a reference normal water extent (the mean annual flood).

Light gray

is all previously mapped flooding, since 1999
. See also the
DFO Web Map Server
. Over the course of the event, remote sensing data are combined to show all flooded areas.
Click on colored dots
for access to River Watch flow information and flood magnitude assessment. Date range included in this map: September 18, 2020.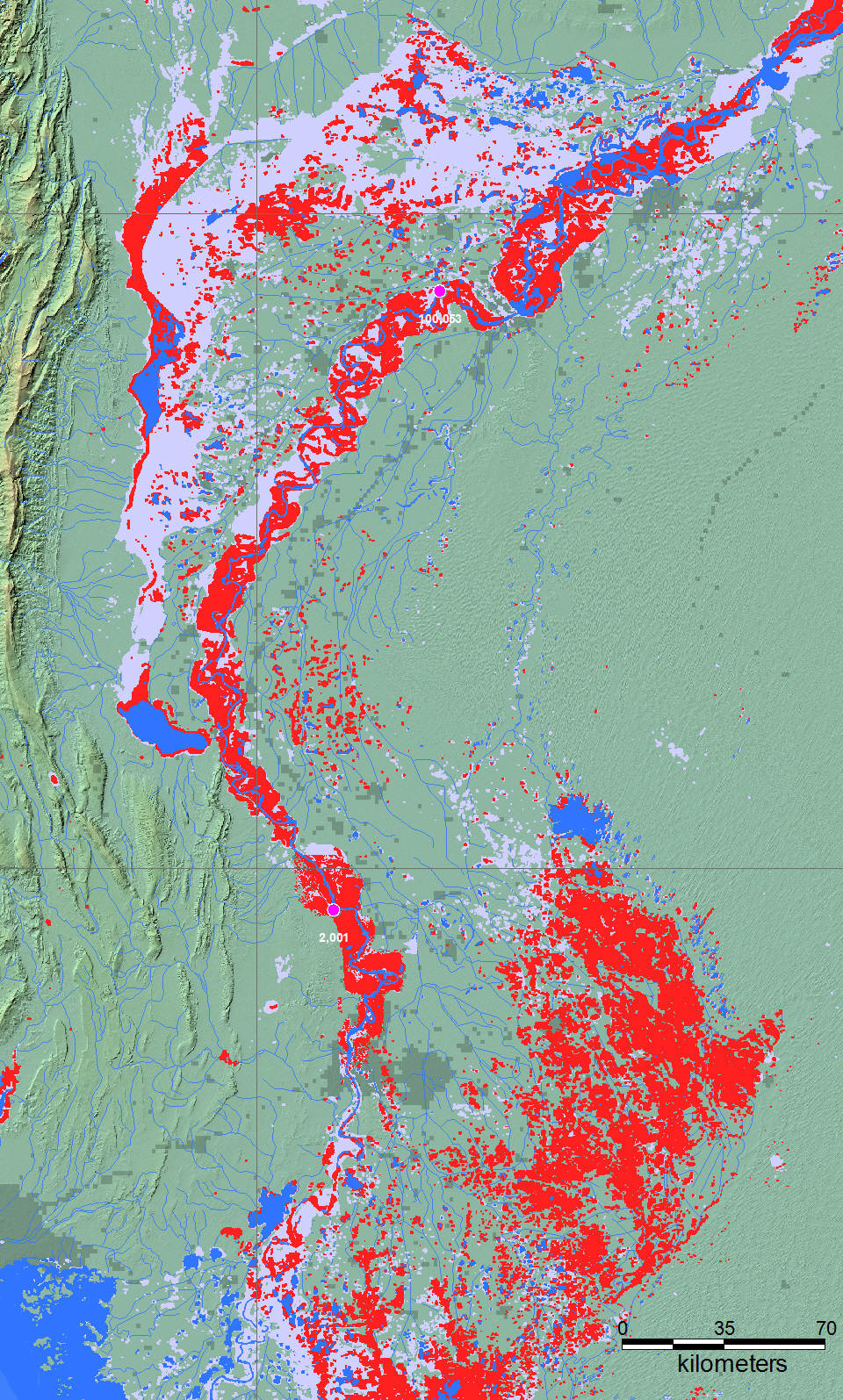 Sample From the DFO WEB MAP SERVICE
From DFO Web Map Service. Shows flooding of agricultural land.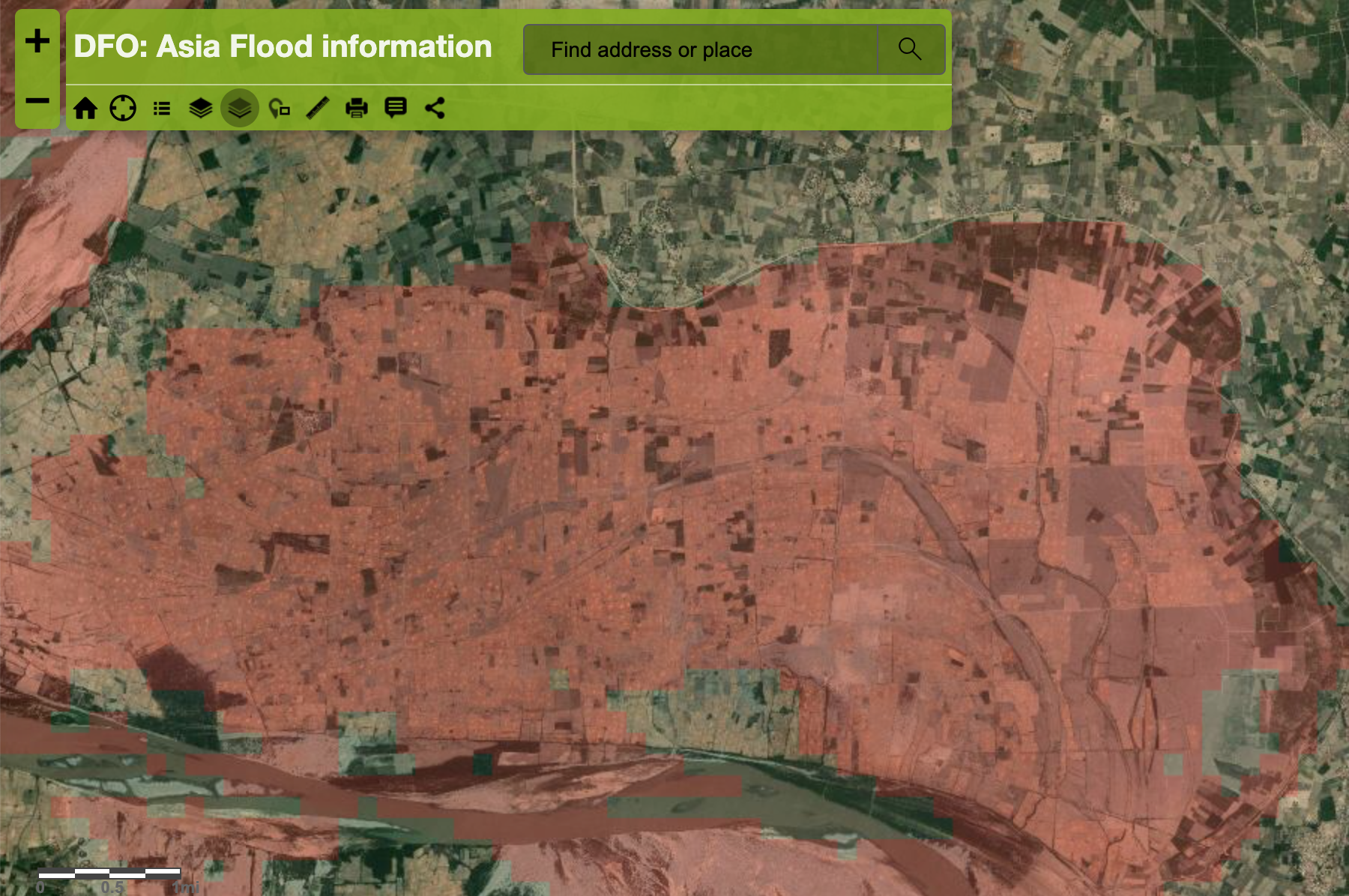 Explanation
Event Numbers
The Flood Observatory maintains a Global Active Archive of large flood events, 1985 to present. New major flood events are entered into this archive each week. A hand-drawn GIS polygon for each event outlines the region affected.
This event was selected for Observatory production of map and GIS data products.This web page and associated image and map (GIS) files become the permanent Flood Observatory record of the flood.
Intellectual Property
As part of collaborations with other organizations, including GEO and the Global Flood Partnership, the Observatory's maps are made available here to the public. Geotif versions and GIS files are also available. With attribution, maps and data can be used freely for non-commercial purposes. With permission, they can be used for commercial purposes. Consult the Creative Commons Attribution-NonCommercial-ShareAlike 4.0 International License and Robert.Brakenridge or Albert.Kettner (at Colorado.edu) if questions. Attribution for this map when Sentinel SAR data are used: "Dartmouth Flood Observatory at the University of Colorado, from satellite data provided by NASA and Copernicus/European Space Agency". When using GIS data (see below) provided to DFO from other sources, please acknowledge original source.

Data Sources
NASA Landsat 8 and Copernicus/ESA Sentinel SAR data if used in this map were obtained from the the U.S. Geological Survey Hazards Data Distribution System. and the Sentinels Science Data hub, respectively. Landsat 8 is jointly managed by NASA and the United States Geological Survey. Copernicus is supported by the European Commission. MODIS data are obtained from the NASA NRT Global Flood Mapping facility (surface water extents) and from NASA Worldview (image files); SUOMI/VIIRS image data are also retrieved from NASA Worldview.
Obtain the GIS Data
Flood extent files (Shp or Mapinfo) supporting this Flood Event Map are located here.
These files may include high spatial resolution mapping such as from Sentinel or Landsat, or lower resolution files from MODIS. File names commonly include the sensor source (e.g., S1 for Sentinel 1, LS8 for Landsat, MODIS, Aqua, or Terra for MODIS) and the image date.
Acknowledgement
The NASA Earth Sciences Program, the Latin American Development Bank, the World Bank, the European Commission's Global Disaster Alert and Coordination System, GDACS, and Copernicus Emergency Management Service, the Google Earth Engine research awards program, the Committee on Earth Observation Satellites (CEOS) Disasters Working Group-Flood Pilot, the Japanese Space Agency, and the European Space Agency all have supported the Observatory's work via research grants and contracts or free satellite-derived data.
The Dartmouth Flood Observatory was founded by Robert Brakenridge in 1993 at Dartmouth College, Hanover, NH USA and moved to the University of Colorado, INSTAAR, CSDMS in 2010. The institutional support of both universities is gratefully acknowledged.

(counting since September 29, 2020)