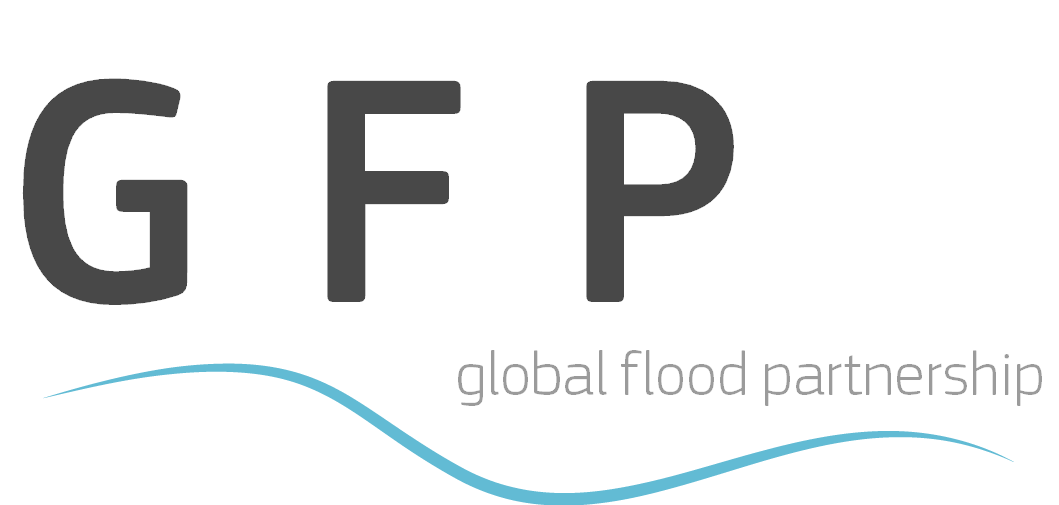 DFO Flood Event: 2020-USA-4915
Description
"USA – Thousands Told to Evacuate in Michigan After Dams Fail 20 May, 2020 by FloodList Governor Gretchen Whitmer declared an emergency for Midland County on 19 May after 2 dams failed. The Edenville and Sanford dams in Midland County were breached after heavy rain over the past few days and residents nearby have been told to evacuate immediately. "If you have not evacuated the area, do so now and get somewhere safe," said Governor Whitmer. Several shelters have been set up in schools and public buildings to house those evacuating. Officials said that evacuation notices affect around 10,000 people from 3,500 homes in the towns of Edenville, Sanford and parts of the city of Midland. Governor Whitmer added: "This is unlike anything we've seen in Midland County. If you have a family member or loved one who lives in another part of the state, go there now. If you don't, go to one of the shelters that have opened across the county. I want to thank the emergency responders, Michigan National Guard members, and the Michigan State Police on the ground helping residents evacuate. Stay safe, and take care of each other."
Midland residents were also advised to seek higher ground as far as possible from the Tittabawassee river which is at Major Flood stage, according to the National Weather Service (NWS). NWS Detroit said: "Flash Flood Emergencies in effect for entire length of the Tittabawassee River in Midland county. Dangerous flash flooding ongoing!" The Tittabawassee in Midland is expected to crest on 20 May at around 38 feet / 11.58 metres, well above the record high of 33.9 feet / 10.33 metres set in September 1986. Major Flood stage here is 28 feet / 8.53 metres. " Quoted from Flood List
Observed Flooding By Image And Date
Red
is all surface water detected by Landsat 8 on May 20, 2020. Time of acquisition is 11:21 am EST (16:21 UTC). Water detection provided by Dan Slayback and Frederick Policelli, NASA Goddard Spaceflight Center.
See also the
DFO Web Map Server
.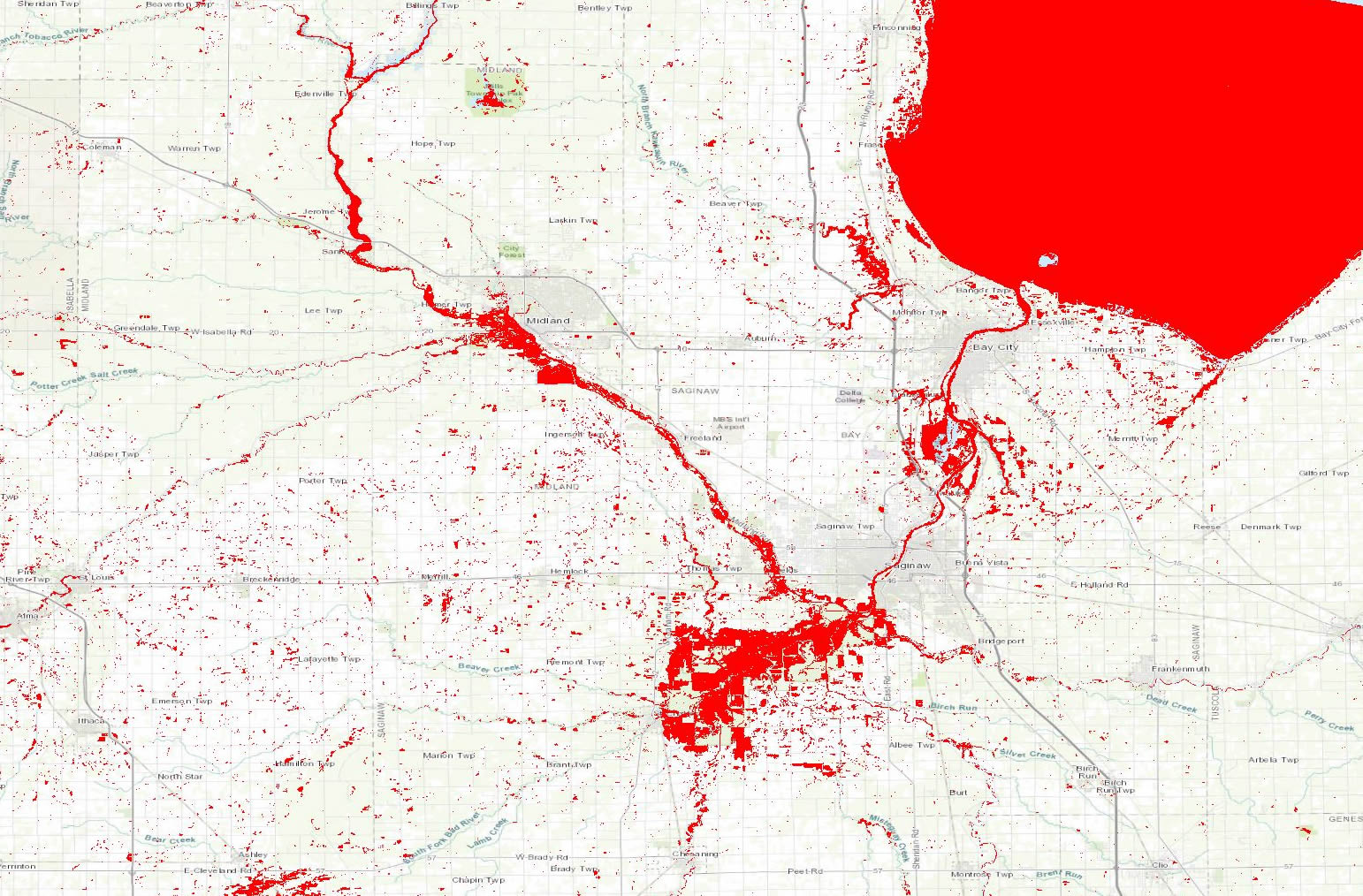 Details on Google Earth Viewer (same data)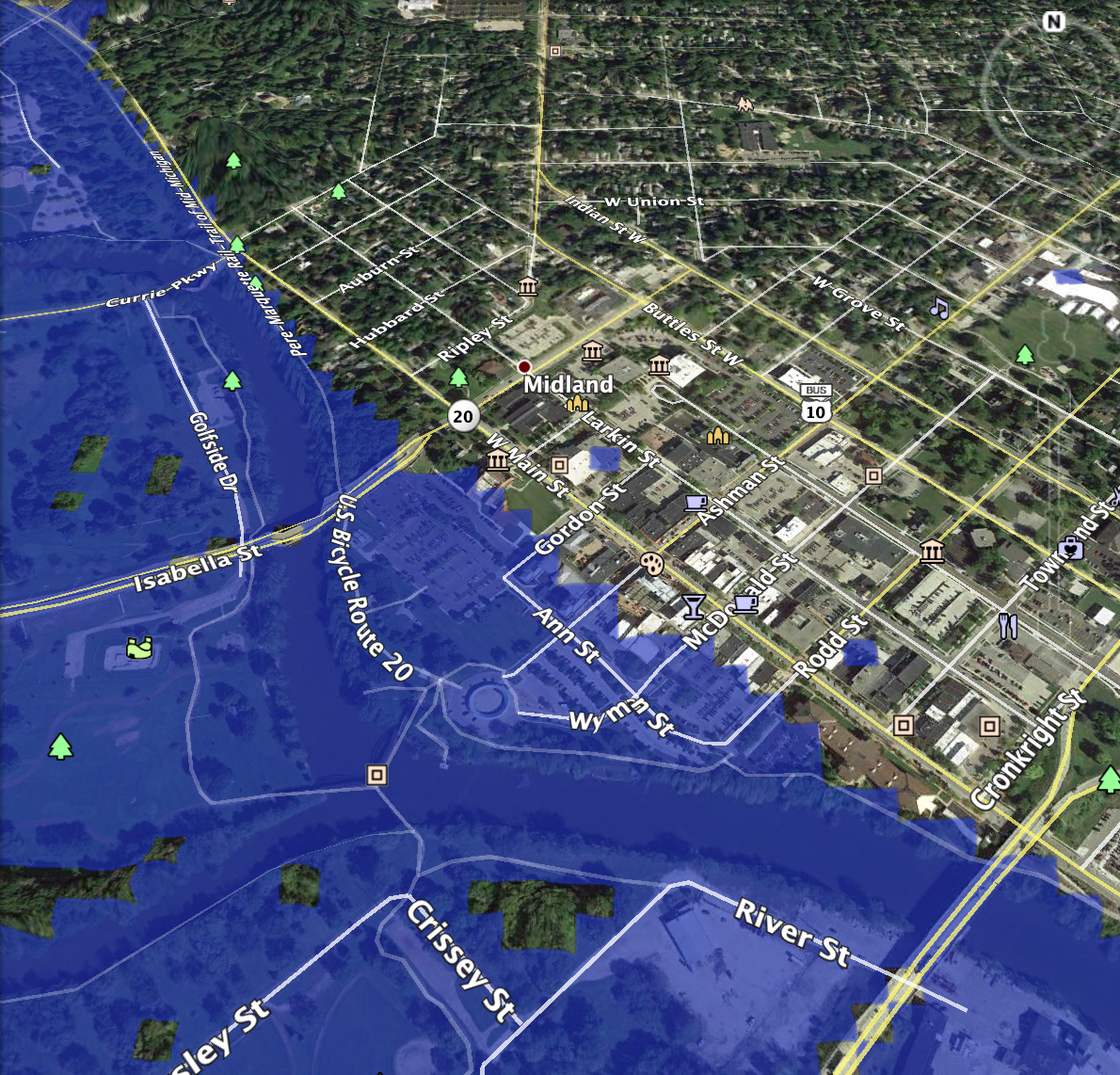 Floodwater Depths And Building Impacts From SDML, University of Alabama
Flooding extent was mapped using a Landsat Satellite Image from May 20, 2020 by the Flood Observatory. Water depth calculated using the Google Earth Engine Implementation of the Floodwater Depth Estimation Tool (FwDET).
Courtesy Brad Peter and Sagy Cohen at the University of Alabama
.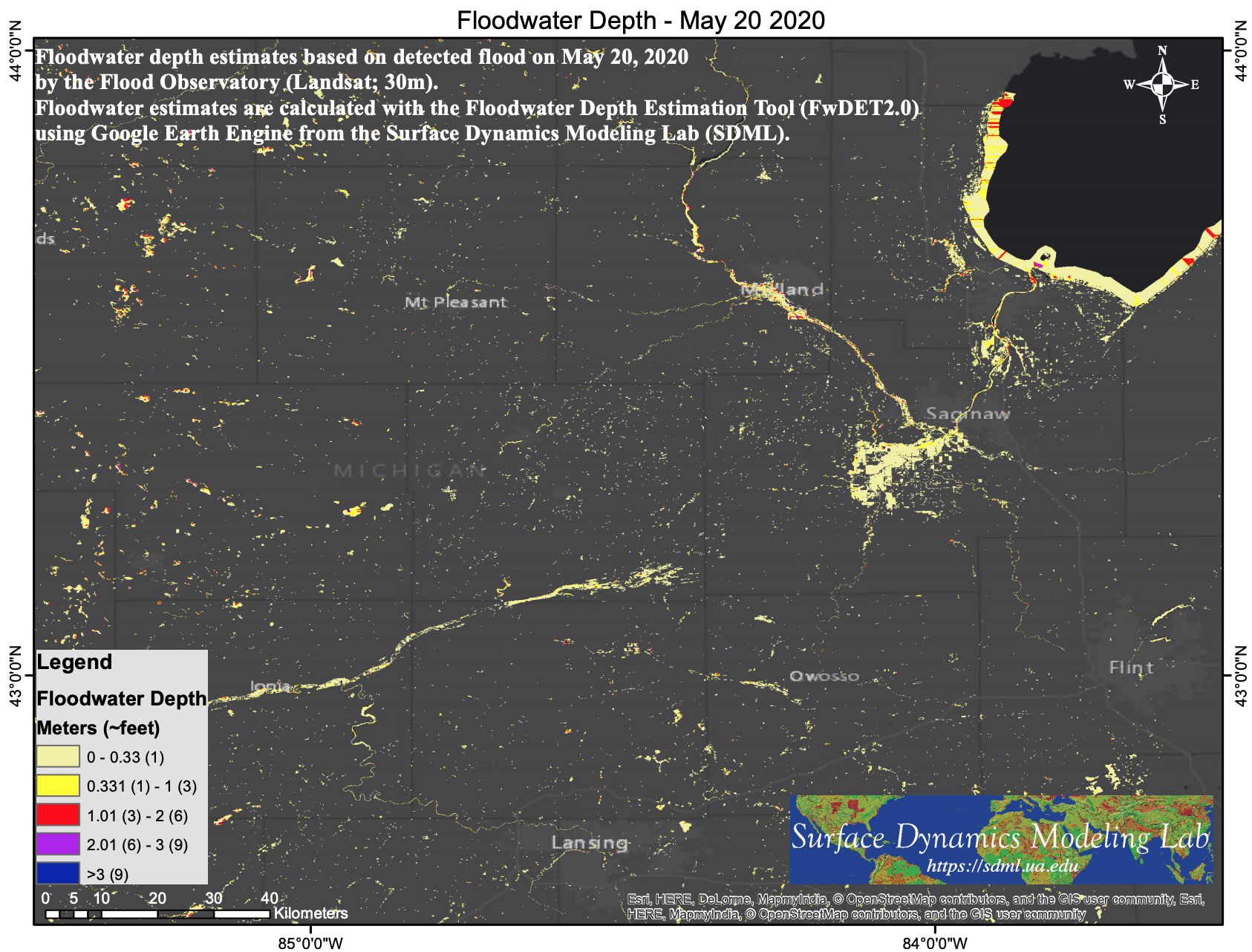 Maximum Observed Flooding
Red
is all mapped flooding from this event
.
Blue
is a reference normal water extent.

Light gray

is all previously mapped flooding, since 1999
. See also the
DFO Web Map Server
. Over the course of the event, remote sensing data are combined to show all flooded areas. Click on colored dots for access to River Watch results. Date range included in this map: May 20, 2020. For this map, the blue "mask" is of coarser resolution than the flood mapping, so many small areas of red may be permanent water.
Additional mapping is in progress.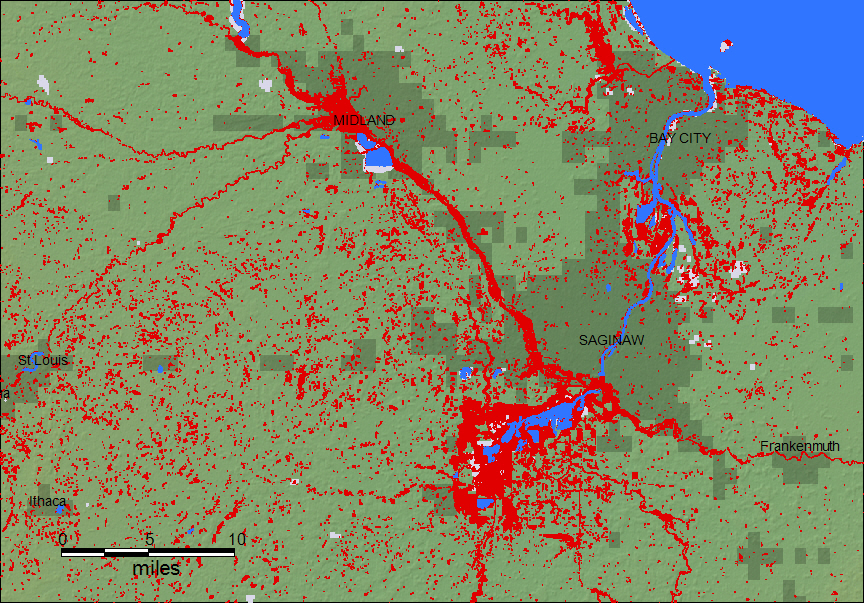 Explanation
Event Numbers
The Flood Observatory maintains a Global Active Archive of large flood events, 1985 to present. New major flood events are entered into this archive each week. A hand-drawn GIS polygon for each event outlines the region affected.
This event was selected for Observatory production of map and GIS data products.This web page and associated image and map (GIS) files become the permanent Flood Observatory record of the flood.
Intellectual Property
As part of collaborations with other organizations, including GEO and the Global Flood Partnership, the Observatory's maps are made available here to the public. Geotif versions and GIS files are also available. With attribution, maps and data can be used freely for non-commercial purposes. With permission, they can be used for commercial purposes. Consult the Creative Commons Attribution-NonCommercial-ShareAlike 4.0 International License and Robert.Brakenridge or Albert.Kettner (at Colorado.edu) if questions. Attribution for this map when Sentinel SAR data are used: "Dartmouth Flood Observatory at the University of Colorado, from satellite data provided by NASA and Copernicus/European Space Agency". When using GIS data (see below) provided to DFO from other sources, please acknowledge original source.

Data Sources
NASA Landsat 8 and Copernicus/ESA Sentinel SAR data if used in this map were obtained from the the U.S. Geological Survey Hazards Data Distribution System. and the Sentinels Science Data hub, respectively. Landsat 8 is jointly managed by NASA and the United States Geological Survey. Copernicus is supported by the European Commission. MODIS data are obtained from the NASA NRT Global Flood Mapping facility (surface water extents) and from NASA Worldview (image files); SUOMI/VIIRS image data are also retrieved from NASA Worldview.
Obtain the GIS Data
Flood extent files (Shp or Mapinfo) supporting this Flood Event Map are located here.
These files may include high spatial resolution mapping such as from Sentinel or Landsat, or lower resolution files from MODIS. File names commonly include the sensor source (e.g., S1 for Sentinel 1, LS8 for Landsat, MODIS, Aqua, or Terra for MODIS) and the image date.
Acknowledgement
The NASA Earth Sciences Program, the Latin American Development Bank, the World Bank, the European Commission's Global Disaster Alert and Coordination System, GDACS, and Copernicus Emergency Management Service, the Google Earth Engine research awards program, the Committee on Earth Observation Satellites (CEOS) Disasters Working Group-Flood Pilot, the Japanese Space Agency, and the European Space Agency all have supported the Observatory's work via research grants and contracts or free satellite-derived data.
The Dartmouth Flood Observatory was founded by Robert Brakenridge in 1993 at Dartmouth College, Hanover, NH USA and moved to the University of Colorado, INSTAAR, CSDMS in 2010. The institutional support of both universities is gratefully acknowledged.
(counting since May 20, 2020)