Birecik Dam on the Euphrates River in Turkey
Below is a series of Landsat 7 browse images showing the Euphrates River in southeast Turkey and northwest Syria.. The large reservoir to the northeast is from the Ataturk dam, which was completed in early 1990. The red arrow points to the reservoir of the new Birecik Dam, which began filling at the end of April, 2000. As of May 18, 2000 the waters of the Euphrates were rising by 30 centimetres a day and had already submerged the villages of Belkis and Apamee.
More Landsat images will be added to this page as they become available.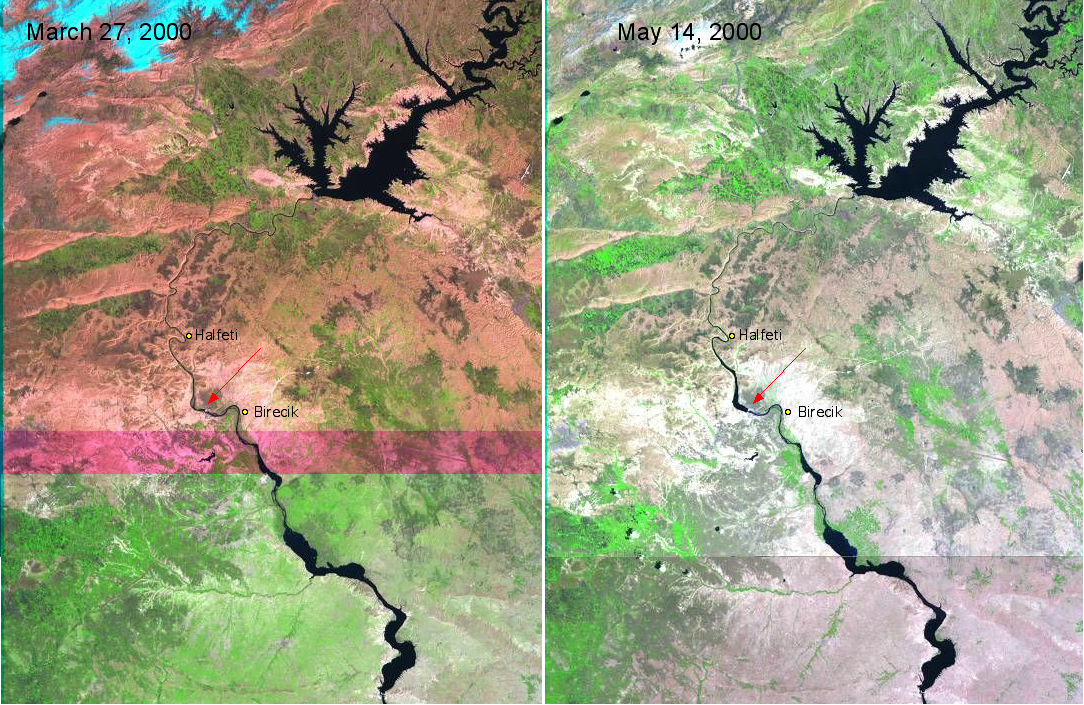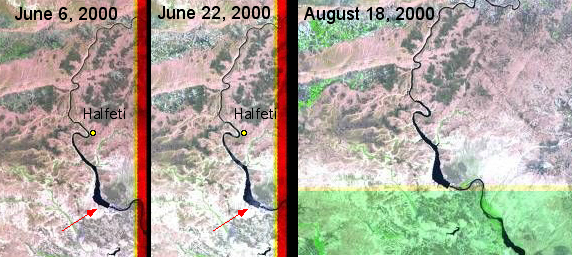 The Birecik hydro-electric dam is part of Turkey's South Eastern Anatolian (water development) Project, which when completed will consist of 25 irrigation systems, 22 dams and 19 hydroelectricity stations. Located 92 km downstream from the Ataturk dam, construction of the Birecik dam began in 1996.
The area which will be affected by the Birecik dam covers a total 44 villages in Halfeti, Birecik and Bozova Districts in Sanliurfa Province; Araban, Nizip and Yavuzeli Districts in Gaziantep Province and the Central and Besni Districts in Adiyaman Province. Nine villages will be completely flooded and three will be partially flooded. Aproximately 6,500 people will be re-settled. Also to be submerged are portions of the ancient Roman city of Zeugma, a cultural meeting point of East and West that supported the only bridge across the Euphrates in Antiquity. The Birecik dam is located just 500 meters downstream of the archeological site of Zeugma. The red rectangle on the location map below shows the aproximate location of the Landsat 7 imagery.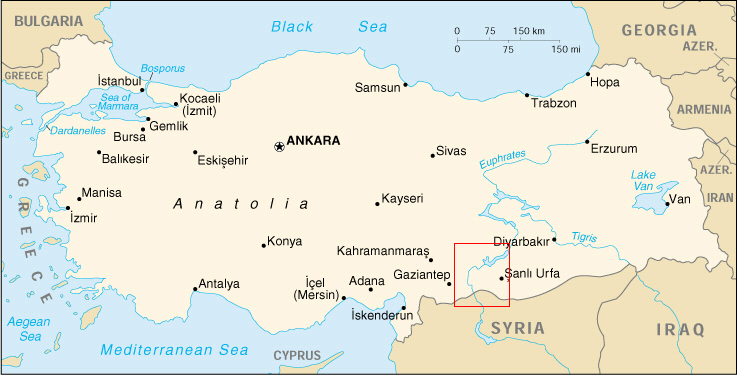 (Location map courtesy of The Perry-Castañeda Library Map Collection)
Image analysis: E. Anderson