Rapid Response Preliminary Results
NASA MODIS coverage of Hurricane Sandy, eastern USA
G. Robert Brakenridge, University of Colorado
Pre-storm, Maryland coast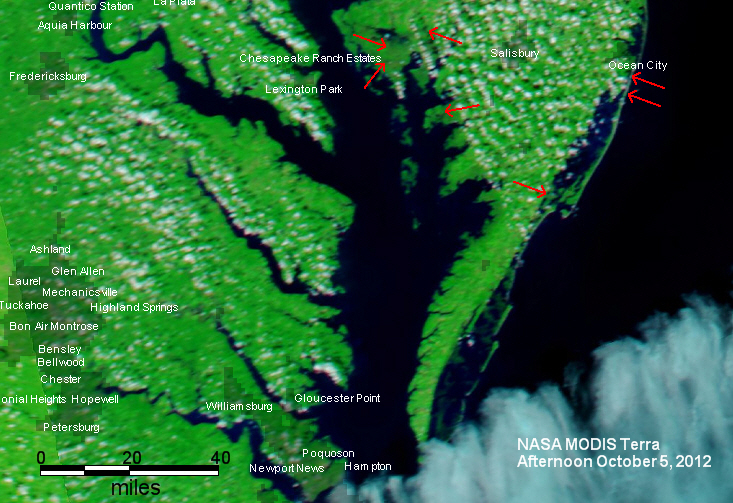 Post-storm, Maryland Coast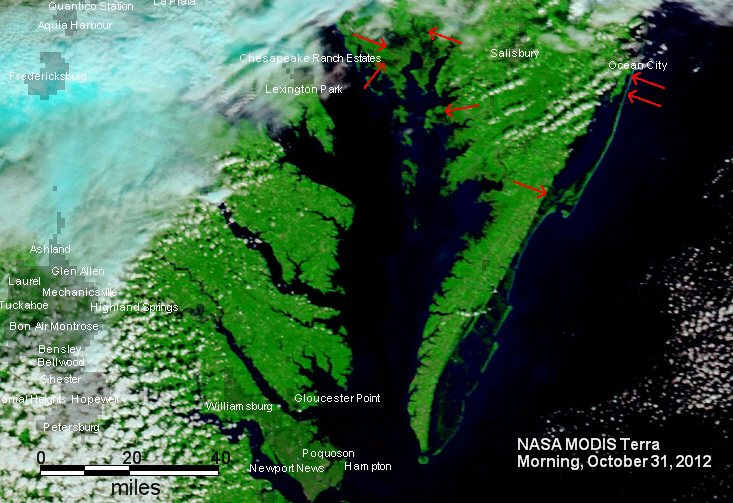 Link to Geotif file of this post-storm image
GoogleEarth kmz file of this post-storm image
(image posted October 31, 2012)
The two MODIS sensors commonly provide the first satellite imagery of major flood events, because they are "always on" and provide global coverage, morning and afternoon passes. Cloud cover is a limiting factor, but the frequent revisits allow immediate imaging, within hours of a break in cloud cover.
The above MODIS-Terra (morning pass) image shows that clouds have parted over the Delmarva Peninsula of Maryland and Delaware (as of morning of October 31) and there is significant flooding and other coastal changes shown south, east, and west of Salisbury, Maryland (red arrows). Many severely affected areas in New Jersey are still cloud obscured, as are the large areas to the west where heavy rainfall has caused many streams and rivers to flood. However, the areas now already in-the-clear show that MODIS will be a useful regional flood mapping tool in response to this event.
At this scale, locally very damaging flooding may appear as relatively small, newly dark areas. Note the scale bar provided: these are actually large areas, on the ground. The Geotif and GoogleEarth kmz files, available at the links above, can also now be used to target higher spatial resolution satellites: for a close look at the areas where rainfall or storm-surge related flooding has changed the landscape.
DFO will be integrating many following days of MODIS coverage and in order to produce a regional view of the effects of this very large and powerful storm system.